PAGE VIEW : 30,047
Product Information :

Name :
New MARS6 เครื่องย่อยสลายตัวอย่างด้วยไมโครเวฟ
Category :
เครื่องมือวิทยาศาสตร์ / สารเคมีและวัสดุภัณฑ์สำหรับห้องปฏิบัติการ
Sub - Category :
CEM Microwave
Product Type :
สินค้า, ผลิตภัณฑ์
Short Description :
การเตรียมและการย่อยตัวอย่างด้วยไมโครเวฟ MARS 6 iWave ระบบย่อยตัวอย่างด้วยไมโครเวฟ วัดอุณหภูมิในหลอด แต่ละหลอดด้วยเทคโนโลยีเปล่าแสง iWave The best just got better! CEM brings a remarkable intelligence and ease of use to microwave sample preparation with the new MARS 6 Microwave Reaction System.
Product Detail :
The MARS6 is now RELOADED with more features and new cool tech.
iWave
In situ, contactless temp control of every vessel, precisely measures the temp of the liquid inside the vessel with no probes or connections. It's like having fiber optic probes in each vessel!
The simple-to-use MARSXpress and MARSXpress™ Plus are the easiest-to-assemble vessels on the market and are ideal for high-throughput labs. The EasyPrep and EasyPrep Plus are high-temperature and high-pressure vessels, which are well suited for large or difficult applications.
Watch this video to see iLink in Action.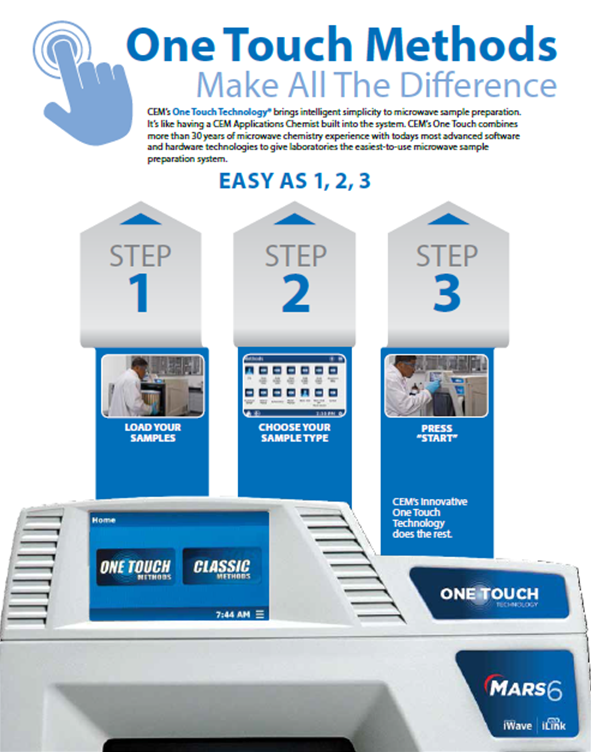 Best Microwave Digestion System. Best Vessels.
This is what we call a Win-Win scenario.
MARSXpress™ & MARSXpress™ Plus
The easiest-to-use, high-throughput vessel on the market, this patented three-piece vessel assembles in seconds. The open turntable design and composite sleeves allow for quick cooling. MARSXpress vessels have a self-regulating pressure control to eliminate the risk of over pressurization. MARSXpress vessels work in conjunction with CEM's patented Contactless All-Vessel Temperature Control and now MARSXpress Plus with DuoTemp combines the fiber optic and IR temperature sensors in a high throughput format.
EasyPrep™ & EasyPrep™ Plus
The gold standard in high-temperature, high-pressure reaction vessels. Simple-to-use EasyPrep vessels have fewer pieces to assemble and do not require membranes or springs for reliable pressure control. Process up to 12 samples simultaneously. EasyPrep vessels feature a control cover with an integrated thermowell for an all TFM-wetted surface, while EasyPrep Plus vessels feature a control cover that utilizes a sapphire thermowell for greater temperature control.
Also available in TFM®.
UltraPrep Vessel
Designed specifically for ultra high-temperature digestions, the new UltraPrep
vessel is our highest pressure and temperature vessel, with operating parameters over 300 °C and 1500 psi. Especially suited for refractory inorganics and inert metals and alloys, applications include, silicon carbide, rhodium, and other materials resistant to dissolution and digestion. Available in two internal volumes to minimize internal surface area
GreenChem™
Perform up to 14 reactions simultaneously at temperatures up to 200 °C or pressures up to 200 psi. These 100-mL vessels are available with either PFA Teflon or glass liners.
Other Product In Group
"CEM Microwave (14)"