PAGE VIEW : 39,110
Product Information :

Name :
Mars 6 Microwave Digestion เครื่องย่อยสลายตัวอย่างด้วยคลื่นไมโครเวฟแบบอัตโนมัติ
Category :
เครื่องมือวิทยาศาสตร์ / สารเคมีและวัสดุภัณฑ์สำหรับห้องปฏิบัติการ
Sub - Category :
CEM Microwave
Product Type :
สินค้า, ผลิตภัณฑ์
Short Description :
การเตรียมและการย่อยตัวอย่างคลื่นไมโครเวฟ MARS 6 iWave ระบบย่อยตัวอย่างด้วยไมโครเวฟ วัดอุณหภูมิในหลอด แต่ละหลอดด้วยเทคโนโลยีเปล่าแสง iWave
Product Detail :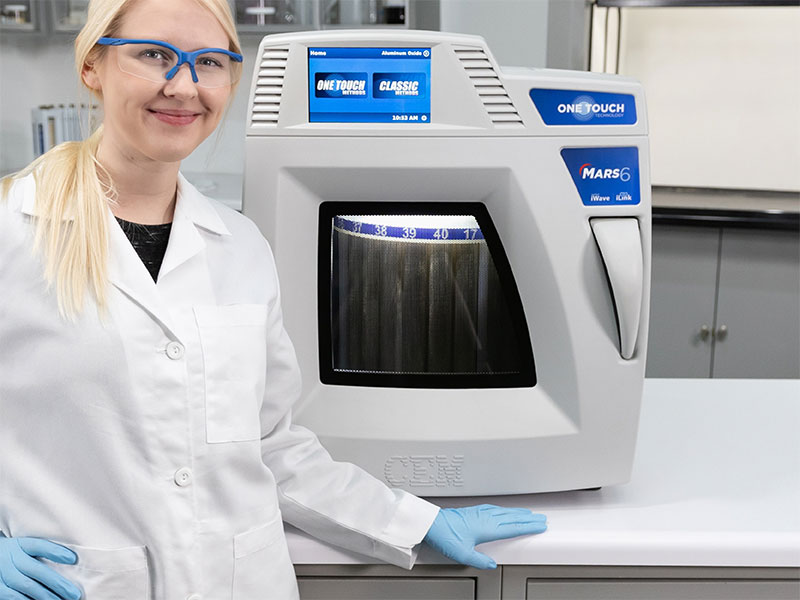 Overview
For over 30 years chemists have trusted CEM to provide the highest quality microwave digestion systems for their laboratories. The MARS 6™ is simply the easiest to use, safest and most intelligent system on the market. It is the only system that uses integrated sensor technology to recognize the vessel type as well as the sample number then apply the appropriate amount of power to ensure the highest quality digest. With options for remote system control and contactless all vessel temperature control, the MARS 6 is ready to handle your most difficult samples.
Features
Contactless in-situ temperature measurement
Sensors that detect vessel type and count
Hundreds of preprogrammed methods
Easy to use vessels for every application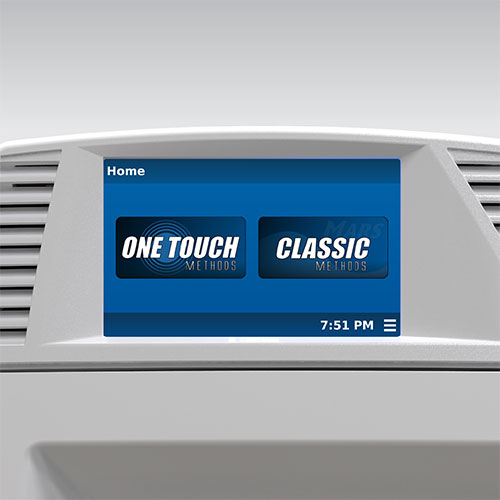 One-Touch Technology
The intelligent way to prepare your samples.
CEM has built in to every MARS 6 the experience of over 30 years of preparing samples. One Touch is like having a CEM chemist at your side. One Touch Technology features the industries only vessel recognition and counter sensors. This information is fed to the onboard computer which then selects the exact digestion conditions required for the sample load and vessel type. One Touch also has more than 100 pre programmed methods, including all USEPA methods, as well as on board tutorial videos. With One Touch you simply choose your method and the system does the rest. Relax.... You have One Touch.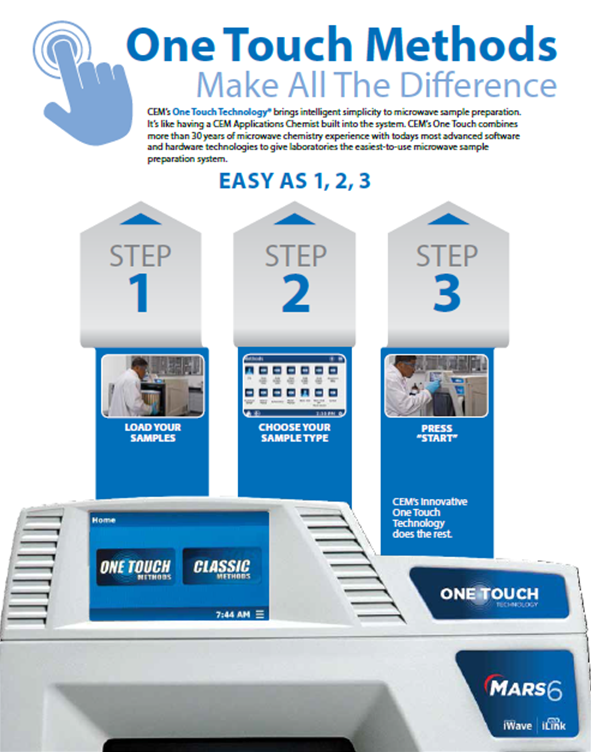 The most advanced vessels ever made.
CEM manufactures a wide variety of vessels to meet the temperature and pressure conditions required to completely digest your samples. All CEM vessels are manufactured from materials that are microwave transparent and focus all of the energy to your samples. The open architecture design provides for rapid cooling without the need for special accessories. From high throughput to high pressure CEM has the right vessel for the task at hand.
---
iPrep
The unique dual seal of the new iPrep™ allows for the highest working conditions of any microwave digestion vessel. This means it can digest extremely difficult materials such as PET and bunker oil with ease. It also will digest twice as much sample as a typical high performance vessel. This allows for better homogeneity and lower detection limits. The 110 mL volume provides a 10 percent enhancement over similar vessel types.
---
EasyPrep Plus
The EasyPrep™ family of vessels are rugged high performance vessels that are good for preparing a wide variety of difficult to digest organic and inorganic materials. These include many types of oils and polymers as well as ceramics and catalysts.
---
MARSXpress Plus
This vessel is based upon the simplicity of MARSXpress™ vessel but allows for a larger working volume due to the 110 mL vessel volume. The MARSXpress Plus™ is designed to run samples similar to the MARSXpress vessels such as: plant and animal tissues, mixed food samples, consumer products, and industrial hygiene. Up to twenty four vessels can be prepared simultaneously to meet the throughput requirements of most analytical laboratories.
---
MARSXpress
The world's most popular vessel has been providing high capacity sample preparation for over fifteen years. It uses a simple three part vessels design making assembly a snap. It is the vessel of choice for environmental digestions including all USEPA methods (3015a, 3051a and 3052) as well as European Norm methods. With a batch capacity of 40 positions this is the vessel choice for a high throughput lab.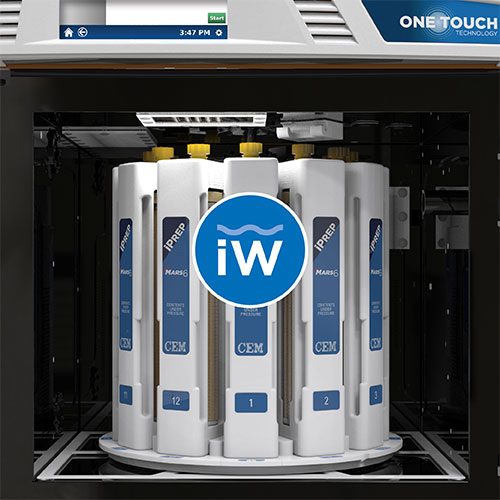 iWave Temperature Sensors
The accuracy of fiber optic temperature measurement without the probes.
iWave is a contactless in-situ temperature sensor that provides the same accuracy afforded by fiber optic probes. Using wireless iWave technology the sample is being measured, and not the vessel. With the ability to accurately monitor each individual sample you get the best control of the digestion process possible and you can create a report that validates that each individual sample reached the proper temperature.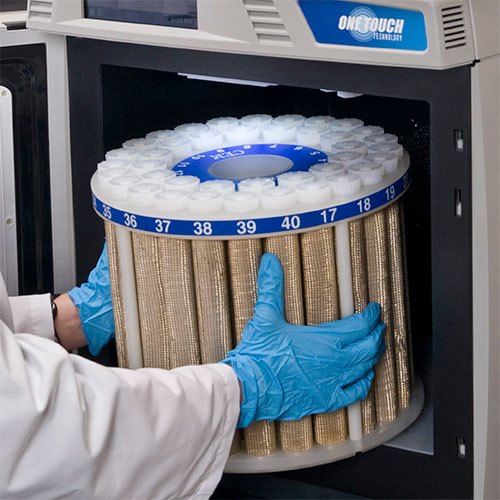 Throughput
Clear digestions, 40 samples at a time.
The MARS 6 is a batch acid digestion microwave system. It heats up to 40 samples during the same run.

Load your vessels, select the method, and all samples are digested at the same time and under the same conditions.